The DML Foxwoods Meet
By Bob Nichols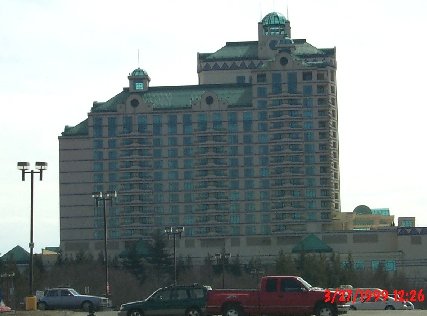 As Hazel and I were driving up Rt. 95 in Connecticut, we drove up on another Dodge Dakota with New Jersey Plates --yes, it was fellow Dakster Roger Heim. Actually, Rodger lives only a couple of towns away from us! Small world, no?! Meeting at Foxwoods was Tom Fawcett's idea, and a great idea it was! We pulled into the Foxwoods parking lot and the first truck we saw was Kevin Bonnano's striped, amethyst, RC. Kevin was with his girlfriend Janelle. Believe it or not, I have never seen an Amethyst Dak! I think I saw four of them that day! As we "shot the shit" the Daks began rolling in.
And the members were:
Kevin Bonnano and Janelle in their striped amethyst RC. Ron Chantel and his daughter Rachael in his amethyst R/T. Joe, Pat & little Joe Davolio in his amethyst 4x4. Tom Fawcett and Karen in their green 4x4 CC. Walter Felix and Ingrid in their red 4x4 monster truck. Rodger Heim in his silver 4x4. Ron McCullough in his green pre '97. Me (Bob Nichols) and my wife Haze in our lowered red CC.
Geezzzz, I hope I haven't missed anyone!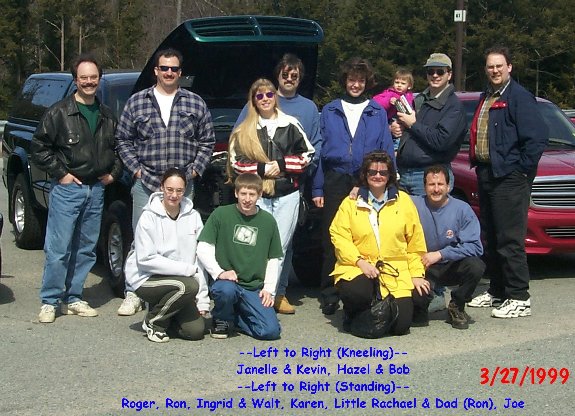 After all the introductions were made and we checked out each other's rides, Tom and Joe pulled out their digital cameras and started snapping pictures. You'll see some of them here, and NO, that's not my real nose! By the way, nice pictures guy. <sic> Joe's still trying to dig out from his move so I wasn't able to put any of his pix in the write-up. Tom
Left to right: Joe D., Rodger H., Kevin & Janelle.
Left to right: Ron M., Karen & Tom, Hazel & Bob.
Left to right: Walter F., Rachael & Ron C.
Next we had quite a burnout contest. Certain people (who shall remain nameless!), couldn't break their tires loose if their life depended on it --except in reverse! Ron C. took the prize. What prize?! We all think Ron was taking tips from Rachael!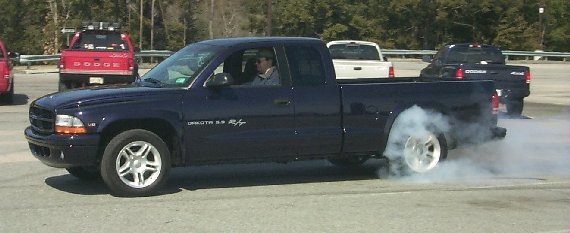 Walt's Monster Truck came in a solid second… There were no other qualifiers.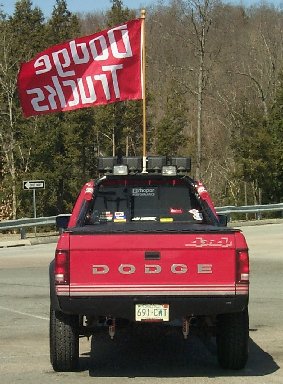 With that out of the way, we headed into Foxwoods. Haze, myself, Rodger and Joe's gang, went to lunch (you don't want to see my personality change when I get hungry) and the rest of the gang hit the gaming tables. After lunch we also hit the slots, actually; Me, Haze and Rodger hit the slots. Joe Jr. wasn't allowed onto the gaming floor so Joe and his gang went to Mystic Aquarium. Since Kevin has "robbed the cradle" and Janelle wasn't allowed on the gaming floor (bummer) they checked out the facilities. What a gentlemen Kevin was, I would have left Haze at the door! We met back at the lobby at 6:00 and drove over to Trader Jacks for dinner in Mystic… Nice choice Karen, dinner was excellent!
From left to right. Pic1: Pat, Joe & little Joe D. (note the Hi Flow bottle on the table

). Pic 2: Bob & Hazel N.
From left to right. Pic 1: Janelle & Kevin, Walt & Ingrid. Pic 2: Karen & Tom, Rodger H.
!!And then came (gulp!)! THE BILL!!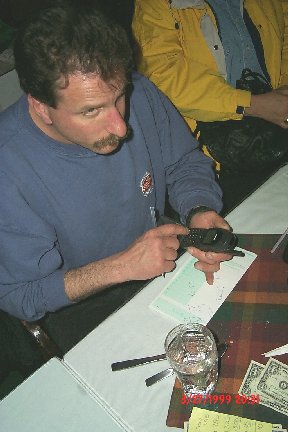 Bob says his cell phone has a calculator function, but we all think he was trying to call 911!

We all had a fantastic time and it was great to put a face to the posts. I hope to see you all at the MOPAR Nationals in Englishtown, NJ (Not that I'll be running).
Regards,
Bob Nichols
The Last Word!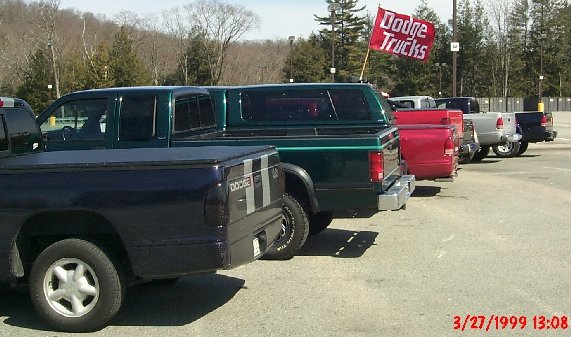 All photos courtesy of Tom Fawcett! Enjoy!

Wicked cool flag courtesy of Walter Felix.
---

Back to the DML Home Page

Jon N. Steiger / stei0302@cs.fredonia.edu / SUNY College at Fredonia